Top Tips for Lips from Ultra Glow
Top Tips for Lips from Ultra Glow
In this section
Top Tips from Ultra Glow
Products and Applications
What shades will suit you?
Perfect your lip shape
If you want to ask any questions about what to use for your individual needs then please don't hesitate to call customer service:
TOP TIPS FROM ULTRA GLOW
There are many, great options for lips - Lipsticks, Lipstains and Lip Gloss and they all work fabulously to create a unique look for your lips. Depending on whether it's a hot, sunny day and you would like something light, moisturising and fun like a lip gloss, or you are an active girl, and need a lipstain to last all day, or want to try something dramatic and protective for winter, then these hints and tips will give you the confidence you need to not only look amazing but will leave your friends convinced that you're a pro.
Test the lipstick on your fingertip – this will give you the closest effect to the colour on your lips especially for Lipstains Gold and Magic Lips as your fingertips are close to the same pH as your lips
Test in bright or natural sunlight to see the true colour of the lipstick
Beauty Without Cruelty vegan Lip liner is great for preventing lipstick from seeping into the edge of your lips and onto your face, as well as creating definition
Use lighter shades for the day and darker shades in the evening
Match nails and lips for a co-ordinated look
Soft colours and lip gloss increase fullness
Blue based lipsticks reduce fullness
Applying concealer around your lips gives the flexibility to change lip shape with a lip liner pencil
Only focus main attention on lips or eyes, not both
Applying concealer or foundation on lips before lipstick will stop the lipstick from blending in with the natural colour of your lips and can give you a sharper colour
Apply concealer, foundation or face powder to the lips before applying lipstain to dampen the shade for a more subtle look
Use Lipstains Gold or Magic Lips as a base for other lipsticks - you can be sure to always have some colour even when your favourite shade has worn off!
PRODUCTS AND APPLICATIONS
Beauty Without Cruelty Natural Infusion Lipsticks

The Beauty Without Cruelty vegan lipsticks are long lasting, moisturising, and fragrance free. Our ethical cosmetics won't dry out your lips and will leave them looking beautiful. There are 30 shades to choose from, and some shades overlay others beautifully - try Gold Over Ripe Cherry for a stunning, bold, evening shade.
Lipstains

Magic Lips and Lipstains Gold are both lipstains which will stain your lips meaning that the colour will stay on all day, even lasting through swimming, kissing or dining. Lipstains Gold are available in 15 beautiful colours, from brown shades of Blush and Spice to Pinks and Reds such as Velvet, Flame and Rose. Magic Lips is a range of fun colours such as Green, Jet and Platinum which change colour according to your pH to a varying shade of pink. Magic Lips colours mix well to create more personal shades, and is a great base for other lipsticks so that you never need to feel naked!
Lip Gloss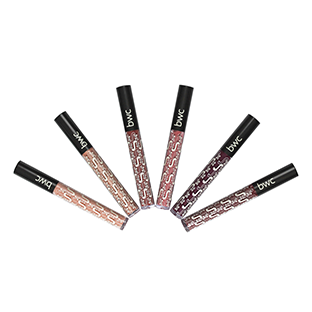 Available in our Ultra Glow and Beauty Without Cruelty range and suitable for vegans. The BWC lip gloss is available in 6 sheer conditioning shades. There are 4 Ultra Glow Professional Jojoba lip Glosses available. Now, there are two new long lasting vegetarian and Parabens Free Lip Shines in our Magic Lips range - Rose Quartz and Soft Amber.
Lip Gloss gives a more natural appearance, ideal if you are wearing heavy eye shadow. It can be worn either over lipstick or alone for a more natural look. Lip Gloss will add fullness to your lips while leaving them looking fresh and shimmery so it should be used sparingly on women who have very full lips. For a natural look, use pink or peach shades of lip gloss; golds and reds look good on people with light colouring, and pinks and raspberries suit those with dark skin and hair.
Lip Defining Pencil

Can be used for definition and shaping. Also great for containing bold colours on the lips. Creates a more professional Look and helps prevent 'bleed'.
Usually its best to use a lip liner close to the natural shade of your lips. The Lip Liners are available in two shades – bwc Pinky Brown and bwc Morello – use Pinky Brown for lips that are paler, and Morello for lips with a more vibrant natural shade.
Makes accurate application of Lipstains simple.
Choosing a shade
It's important to not overdo the make up, so choose to either focus on your eyes or lips. Too much of both will look heavy and unflattering.
Before applying lipstick, make sure you use a good foundation and powder as this will help conceal a poor shape. Or just use a dusting of Ultra Glow for the perfect finish every time.
WHAT SHADES WILL SUIT YOU?
| Skin tone and hair colour | Colours to wear |
| --- | --- |
| Fair skin and light hair | Lighter shades of pink, orange, peach and beige such as Beauty Without Cruelty Sweet Apricot, Cherry Blossom, Silver Rose, Wild Watermelon, Birch, Cappuccino, Praline |
| Fair skin and dark hair | Deep Pinks, browns and caramels such as Beauty Without Cruelty Azalea, Blueberry Coulis, Paprika, Warm Pecan, Dusky Pink, Coral, Praline and Cappuccino |
| Medium skin and hair | Any tone! Lighter shades will show up the richness of the skin |
| Dark Skin | Plum or Wine shades such as Beauty Without Cruelty Deep Plum, Reckless Ruby, Rosewood, Raspberry and Cerise. Rich Bronze for a more subtle/daytime look |
| Olive Skin | Reds and Light Browns such as Beauty Without Cruelty Ripe Cherry, Pomegranate, Rosehip, Day Lily, Praline, Cappuccino, Paprika, Warm Pecan, Birch, Cherry Blossom |
PERFECT YOUR LIP SHAPE
Everyone's lips are different. Look in the mirror and using the drawings to the right find which type you have: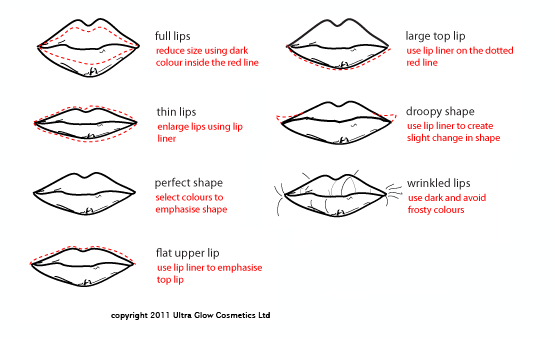 Full Lips
Reduce size by using a dark colour inside
Do not use light colours or lip gloss
Use foundation and powder/concealer to hide the outline, use blue toned reds or dark purplish pinks or bronze shades
Recommended colours include: Beauty Without Cruelty Deep Plum, Rosewood, Reckless Ruby and Rich Bronze
Large Top Lip
With large top lip and small bottom lip, use lip liner to create the illusion of a fuller and enlarged bottom lip
Thin/Small Lips
Enlarge thin lips with lip liner outside the lip line to emphasize and create a fuller look
Use pale, light shades of lipstick or bright lip gloss to increase fullness and accentuate lips
Recommended colours include: Beauty Without Cruelty Praline, Sweet Apricot and Silver Rose
Droopy Shape
To create a more 'smiley' look, use lip liner to create a slight change in shape
Following the diagram, use the lip liner to pull up the edges of your lips
Avoid reds
Perfect Shape
Lucky you! This means that you have an even balance between top and bottom lips, medium fullness - smiley shape
Asymmetrical
Use lip liner to build shape and fill in with a deep lip colour
Recommended colours include: Beauty Without Cruelty Deep Plum, Raspberry, Rosewood and Reckless Ruby
Wrinkled Lips
The best way to cover up imperfections is to use dark, deep matte colours and to avoid frosty colours as they reflect in the light and show imperfections
To reduce the appearance of wrinkles, drink lots of water and use lip balm or an ordinary moisturiser
Recommended colours include: Beauty Without Cruelty Coral, Reckless Ruby, Rosewood and Cerise
Use Lip Liner to help prevent 'bleed'
Flat Upper Lip
Use lip liner to emphasize the shape and edge
Wear very bright reds or pinks. Avoid colours which are too light as it will give the impression of your lip disappearing into your face
Recommended colours include: Beauty Without Cruelty Rosehip, Pomegranate, Ripe Cherry, Azalea, Cerise
Ultra Glow Cosmetics Ltd
Unit 10 Gamma Terrace
West Road
Ipswich
IP3 9SX
United Kingdom

Telephone: +44(0) 1473 271500

Email: info@ultraglow.co.uk
Company No. 02679629
Copyright 2017 ultraglow.co.uk